Jean-Pierre Mara sent this document in May 2000, about the founding of Bangui.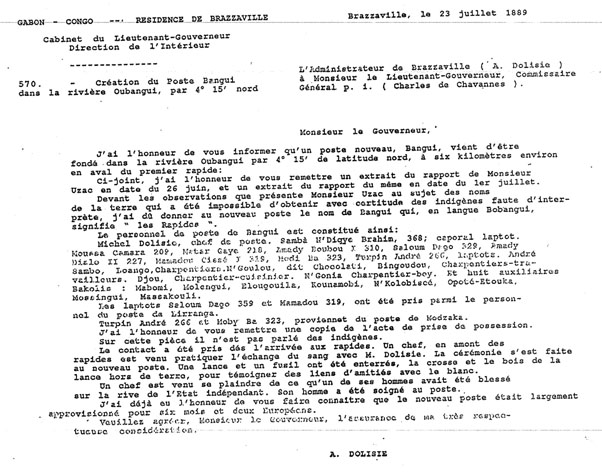 Chers compatriotes, recevez ci-joint la photocopie de l'originale de la lettre de A. Dolisie, adresée le 23 Juillet 1889 au gouverneur de l'AEF. Il est fait mention d'un acte que je n'ai pas pu obtenir mais ce document devra bien se trouver dans une archive quelque part dans ce monde. La formule reflette l'esprit de l'époque et mérite la reflection de chacun
Jean-Pierre
Dear compatriots,
Attached is the photocopy of an original letter from A. Dolisie, sent July 23 1889 to the governor of French Equatorial Africa. It refers to a deed that I have not been able to obtain, but this deed ought to be accessible in some archive somewhere. The manner of writing reflects the mindset of the time, and deserves everybody's consideration.
---
GABON-CONGO- Residence de Brazzaville
Cabinet du Lieutenant-Gouverneur
Office of the Lieutenant-Governor
Direction de l'Intérieur
Brazzaville, le 23 juillet 1889
Brazzaville, Julyl 23 1889
570- Création du poste de Bangui dans la rivière Oubangui, par 45degré 15 nord
Creation of the Post of Bangui, on the Oubangui River at 4°15' north
L' administrateur de Brazzaville (A. Dolisie)
A monsieur le Lieutenant-Gouverneur, Commissaire Géné p. i. (Charles de Chavannes)
From the administrator at Brazzaville (A. Dolisie) To Lt.-Governor and Commissioner General (Charles de Chavannes)
Monsieur le Gouverneur,
J'ai l'honneur de vous informer qu'un poste nouveau, Bangui vient d'être fondé dans la rivière Oubangui, par 45degré 15 de latitude nord, à six kilomètres environ en aval du premier rapide:
I am honored to report that a new post, Bangui, has been founded on the Oubangui River, 45° 15' north latitude, about 6 kilometers downstream from the first rapids:
Ci-joint, j'ai l'honneur de vous remettre un extrait du rapport de Monsieur Uzac en date du 26 Juin, et un extrait du rapport du même en date du 1er juillet.
Enclosed, please find an extract of the report of M. Uzac, dated June 26, as well as an excerpt of his report from July 1.
Devant les observations que présente Monsieur Uzac au sujets des noms de la terre qui a été impossible d'obtenir avec certitude des indigènes faute d'interprète, j'ai dû donner au nouveau poste le nom de Bangui qui, en langue Bobangui signifie "les rapides" .
In advance of M. Uzac's reports, on the subject of what to call this place, it has been impossible to find out for certain from the natives because of language difficulties, so I have had to give the name Bangui to the new post. In the Bobangui language this word means "rapids".
Le personnel de poste de Bangui est constitué ainsi:
The personnel at the post of Bangui consists of:
Michel Dolisie, chef de poste. Sambà N'digye Brahim, 368; caporal laptots. Noussa Camara 209, Natar Gaye 218, Amadi BoubouI X 310, Saloum Dago 329, Amady Dialo II 227, Mamadou Cissé I 319, Modi Ba 323, Turpin André 266, laptots. André Sambo, Louango, Charpentiers. N'goulou, dit chocolati, Bingoudou, charpentiers-travailleurs. Djou, charpentier-cuisinier. N'gonia charpentier-boy. Et huit auxilliaires Bakolis: Mabomi, Molengui, Elougouila, Kounamobi, N'kolobiscé, Opoté-Etouka, Mossingui, Massakouli.
Chief of the post: Michel Dolisie
Corporal of the laptots: Sambà N'digye Brahim, 368
Laptots: Noussa Camara, 209; Natar Gaye, 218; Amadi Boubou X, 310; Saloum Dago, 329; Amady Dialo II, 227; Mamadou Cissé I, 319; Modi Ba, 323; Turpin André, 266
Carpenters: André Sambo, Louango
Carpenter's laborers: N'goulou (known as Chocolate), Bingoudou
Carpenter/cook: Djou
Carpenter's helper: N'gonia
Plus 8 extra Bakolis: Mabomi, Molengui, Elougouila, Kounamobi, N'kolobiscé, Opoté-Etouka, Mossingui, Massakouli
Les laptots Saloum Dago 359 et Mamadou 319, ont été pris parmi le personnel du poste de Lirranga.
The Laptots Saloum Dago, 358, and Mamadou, 319, were assigined to the post of Lirranga.
Turpin André 266 et Moby Ba 323, proviennent du poste de Modzaka.
André Turpin, 266, and Moby Ba, 323, come from the post of Modzaka.
J'ai l'honneur de vous remettre un copie de l'acte de prise de possession.
It is my pleasure to send you a copy of the deed for this land.
Sur cette pièce il n'est pas parlé des indigènes.
This document says nothing about the natives.
Le contact a été pris dès l'arrivée aux rapides. Un chef, en amont des rapides est venu pratiquer l'échange du sang avec M. Dolisie . La cérémonie s'est faite au nouveau poste. Une lance et un fusil ont été enterrés, la crosse et le bois de la lance hors de la terre, pour témoigner des liens d'amitiés avec le blanc.
We made contact (with the natives) as soon as we arrived at the rapids. A chief, upstream of the rapids, joined M. Dolisie in a ceremony of blood brotherhood. This took place at the new post. A spear and a gun were buried, with the butt of the gun and tail of the spear sticking out of the ground, to attest to these vows of brotherhood with the whites.
Un chef est venu se plaindre de ce qu'un de ces hommes avait été blessé sur la rive de l'Etat indépendant. Son homme a été soigné au poste.
A chief complained that one of his men had been injured on the banks of the independent State. His man was treated at the Post.
J'ai déjà eu l'honneur de vous faire connaître que le nouveau poste était largement approvisionné pour six mois et deux Européens
I already let you know that the new post has been stocked for 6 months and 2 Europeans.
Veuillez agréer, Monsieur le Gouverneur, l'assurance de ma très respectueuse considération.
Please accept my best wishes,
A. Dolisie