Paul Karting sent along these frames extracted from Roger Corman's Rock All Night (1957) that features The Platters. He says that Buck Ram, who formed and managed The Platters, was also manager of Eric Dolphy at this time. Joe O'Con reports that the pianist is Eddie "Mush Mouth" Beal. Mark Cantor asked Buddy Collette for help, and he identified the guitarist as Herman Mitchell, the bass player as Clarence Daniels, and the drummer as Jimmy Owens. The tenor was Robbie Robinson, according to Mark.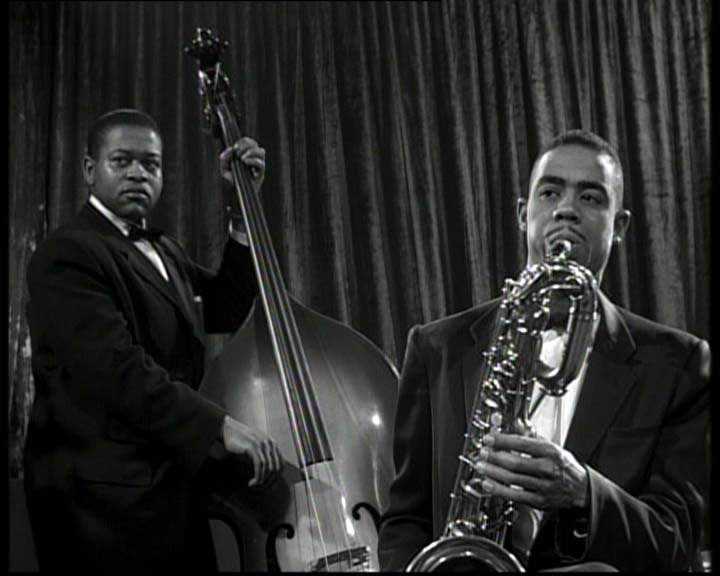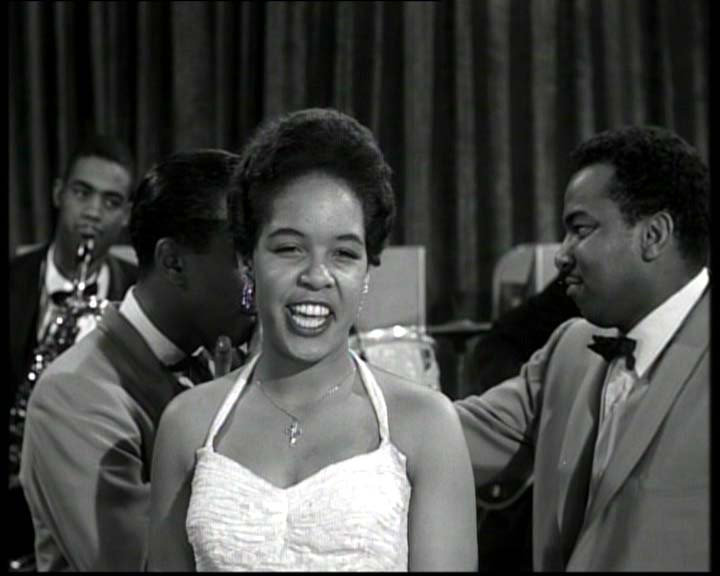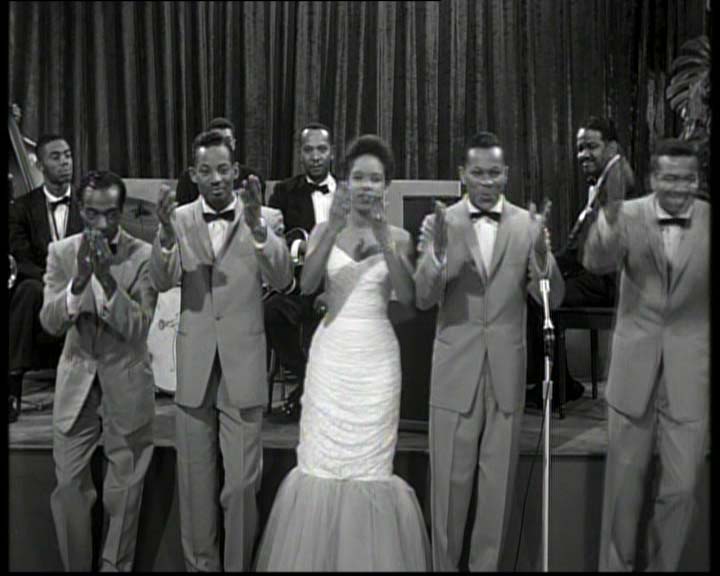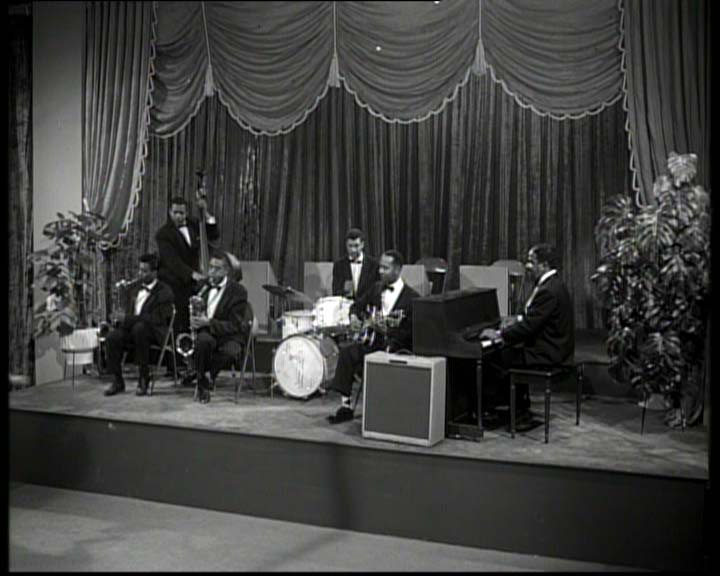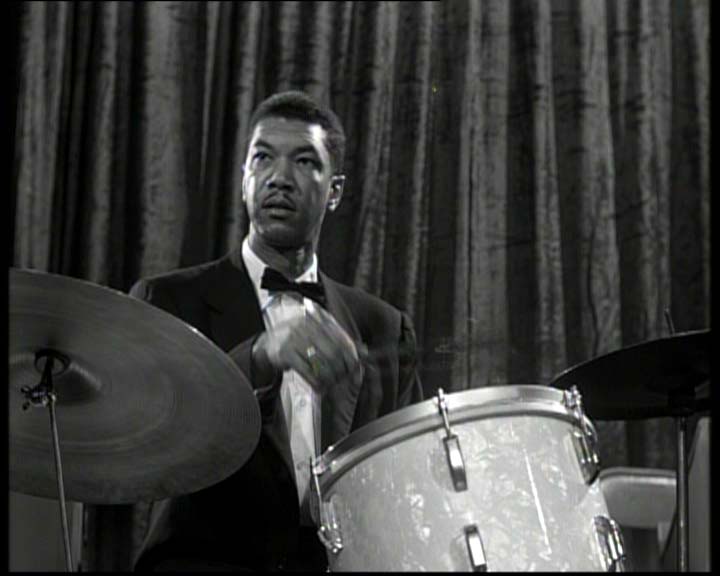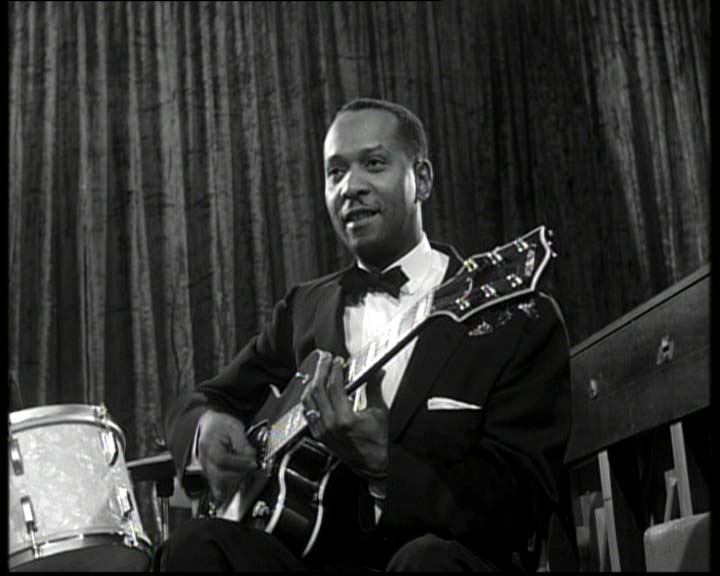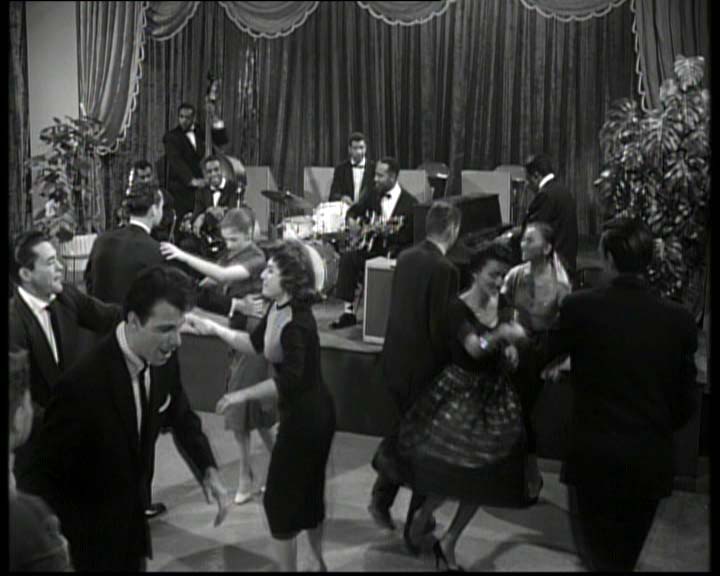 Yas Saotome sent scans of the soundtrack LP from this movie: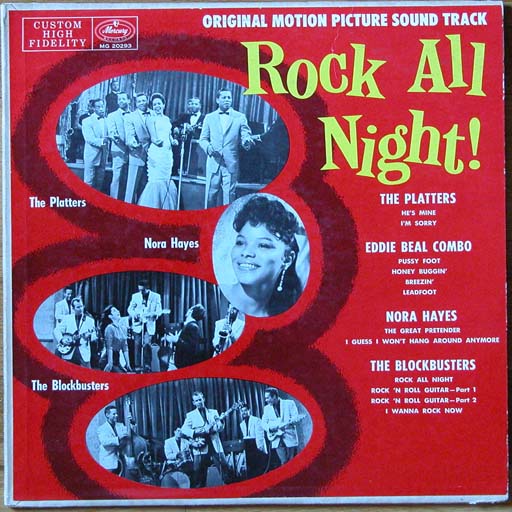 (click for larger image)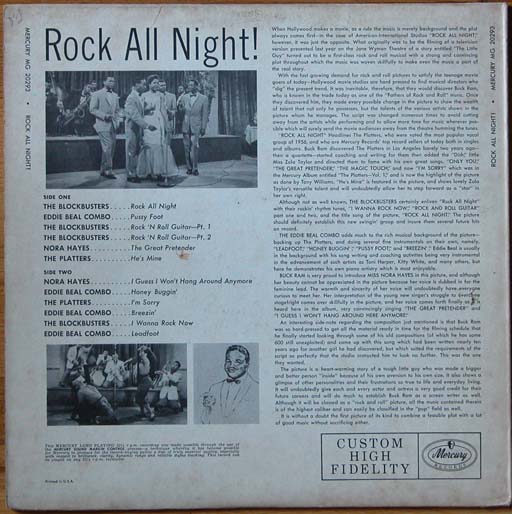 (click for larger image)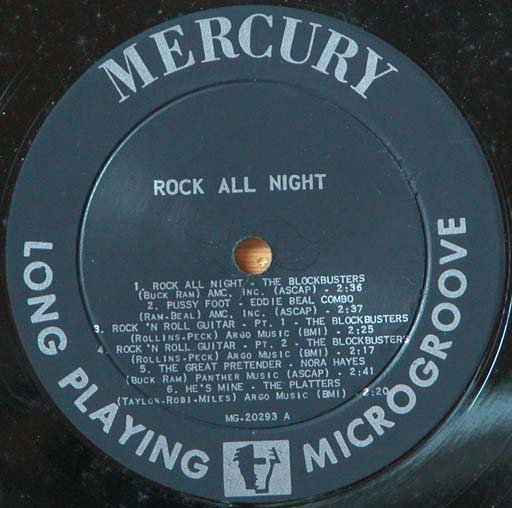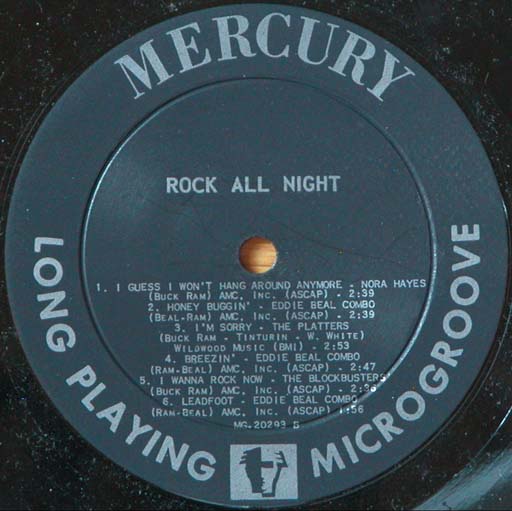 Paul also sent the DVD, and here are some clips extracted from it that include Dolphy:
The Platters sing He's Mine.
They do I'm Sorry.
The band plays while the bartender/bouncer tries to kick the hero out of the club.
If anybody can iprovide further information, let me know. Paul sent a discussion of Dolphy's reputed work on other such dates (edited by abs):
Here is a translation, by Mitsuo Johfu, (Marshmallow Records) of an interview in the Eric Dolphy special in JAZZ HIHYO 115, 2003 No. 2, 15.4.20.
This was from July 2004.
---
Hello Paul,

"Here's the translation that you requested. Sorry for my poor translation but I did my best. The interview was between Mr. Harada and Dolphy collector Dr. Tuzura. Mr. Harada is an editor from Jazz Hihyo."
Eric Dolphy and the Platters
Harada: I believe Dolphy never plays tenor?

Tuzura: I believe he played it. I found an article in a British magazine JAZZ NEWS, Jan. 7th, 1961 issue. In that article: "The name is Eric Dolphy, a 32-year-old Los Angeles multi-instrumentalist musician who gets around with equal ease on the alto and tenor saxophones, the bass clarinet and the flute, ...".

ONLY YOU, TWILIGHT TIME, and GREAT PRETENDER are big hits of the Platters. Dolphy's manager, Buck Ram composed them and he was a great jazz fan.

Dolphy can play all three instruments so he did the job of 3 people.

I guess he was hired because he can read well.

YOU'LL NEVER NEVER KNOW Mercury 70948

IT ISN'T RIGHT Mercury 70948

On TWILIGHT TIME, he plays bcl, Mercury 71289

On TWILIGHT TIME Mercury 30075

THE SOUND AND THE FURY, fl, too, Mercury 71427

On HARBOR LIGHT, he played fl, Mercury 71563

SLEEPY LAGOON, fl, Mercury 71563

TO EACH HIS OWN, as, bcl, Mercury 71697

IT'S RAINING OUTSIDE, bcl, Mercury 71535

IF I DIDN'T CARE, bcl, Mercury 71749

I'LL NEVER SMILE AGAIN, Mercury 71791

I'LL TAKE YOU HOME KATHERINE, bcl, too, Mercury LP?

PRISONER OF LOVE, bcl, fl, Mercury LP?

I can hear flute obliggato, and believe this is Dolphy's work! We can hear some tenor sax solos behind the Platters, and I think there is no doubt they are all Dolphy's work!

At that time, Rock'n Roll was a trend, everybody played tenor sax."
---
Paul then writes:

With this information, I have been searching for movies in which the Platters were playing. I found "The Girl Can't Help It", with the Platters, but the Platters were on stage with closed curtains, behind them. The band was not visible. In "Rock Around The Clock", the musicians behind The Platters are hard to see but I did not recognize Eric Dolphy in the band.

When you search in movie books about jazz, you will not find reviews of Eric Dolphy as backing musicians from a Rock and Roll band. The only way to find it is by looking at the movies and capturing the pictures. After several movies with Rock and Roll stories, this "Rock all Night" was bingo.

A CD, on Universal Master collection "CLASSIC The Platters", Mercury 542 447-2 has a picture of the Platters with the musicians behind them: piano, bass, guitar, drums and ten-sax, but it isn't Dolphy.

You can listen to the various Mercury recordings, mentioned above, but you don't hear the sound of Eric Dolphy in the band. It's the same with the 2 records of Ed Townsend on Capitol, "New In Town" ST 1140 and "Glad to be here", ST 1214. In the Nelson Riddle Orchestra were Gerald Wilson and Eric Dolphy. According to my Japanese collectors, here is the information on what instrument Eric is playing in which track.
ED TOWNSEND: NEW IN TOWN, CAPITOL ST 1140
Recorded in Los Angeles February 1959
| | | | |
| --- | --- | --- | --- |
| 1 | THE MORE I SEE YOU (ts) | 3:13 | February 1959 |
| 2 | LOVER COME BACK TO ME (as) | 2:28 | February 1959 |
| 3 | TILL THE END OF TIME (ts) | 3:16 | February 1959 |
| 4 | DO NOTHIN' TILL YOU HEAR FROM ME (ts) | 3:14 | February 1959 |
| 5 | ROCKIN' CHAIR (as) | 3:50 | February 1959 |
| 6 | MAM' SELLE (ts) | 2:45 | February 1959 |
| 7 | I AM (ts) | 3:17 | February 1959 |
| 8 | IN THE STILL OF THE NIGHT (ts, fl) | 4:04 | February 1959 |
| 9 | SYMPHONY (ts) | 3:14 | February 1959 |
| 10 | GOIN' MY WAY (ts) | 2:54 | February 1959 |
| 11 | PRISONER OF LOVE (ts) | 3:32 | February 1959 |
| 12 | NEW IN TOWN (as) | 3:01 | February 1959 |
Between the parentheses is the instrument used by Eric Dolphy.
This information is interesting to know, but the difference between a movie and a sound-recording is, you can see the people and with sound, you must hear enough from a musician to recognize him.
We must know that Eric Dolphy had to work hard for a living and took every musical job he got - Rock and Roll, Rhythm and Blues, studio recordings - and his manager was Buck Ram, making a lot of money with the Platters, and as Rock and Roll has more profit than jazz, he took a lot of commercial jobs. He could play various instruments, he could read with the best and he was very easy to work with.
Here you have some information on the research I made about Eric's Los Angeles time of 1956-1959.