Paul Karting, who produced Dolphy's tour of Holland in 1964, provided the following information and images (all images copyrighted by the photographers):
Arrival at Schiphol Airport on May 29,1964. From left to right Ruby Kamerbeek (driver during the tour and husband of the woman mentioned in Eric's letter, Eric and Paul Karting. Photo by Hans Kemmink.

I arranged the tour in Holland to the following Clubs:

May 29, 1964 14.00 hours. Rehearsal in house belonging to Misha Mengelberg (huis Frankendael) in Amsterdam

May 29, 1964 20.00 hours. Modern Music Club Alkmaar, in Extase in the city Bergen near Alkmaar

May 30, 1964 14.00 hours. Restaurant De Kroon, in Amsterdam, rehearsal with Boy's big band. Two compositions will be played at night in the Amsterdam Concertgebouw with Boy's Big Band

May 30, 1964 20.00 hours. Jazzclub B-14, in De Heuvel in Rotterdam. As I was also manager of this jazzclub I asked Eric if he had objections if I taped the concert. He did not allow me to tape the concert so I did not use my tape-recorder.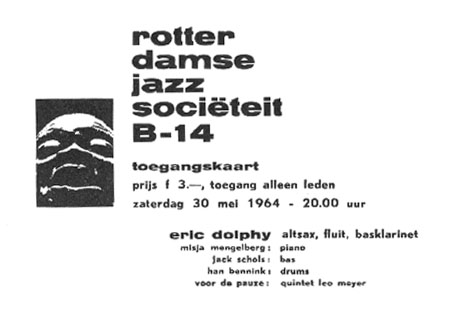 Entrance ticket to concert at B-14 club: toegang alleen leden = for members only
3 guilders was $0.83. B-14 had a hall for only 300 people, and this was a very interesting concert. It was warm, not only because it was too crowded. We had more people in the hall than were allowed by the fire brigade. They came sometimes to check if there was enough possibilities to leave the hall, when there was a necessity, and more than 300 were not allowed. I think there were 400 people. But the music was so hot, there was an atmosphere like in a commune. Everybody was chained to the things that happened on stage. It was a swirling unit, audience and music.


May 30, 1964 at 24.00 hours. The Concertgebouw in Amsterdam (the quartet with the Boy's (Edgar) Big Band.)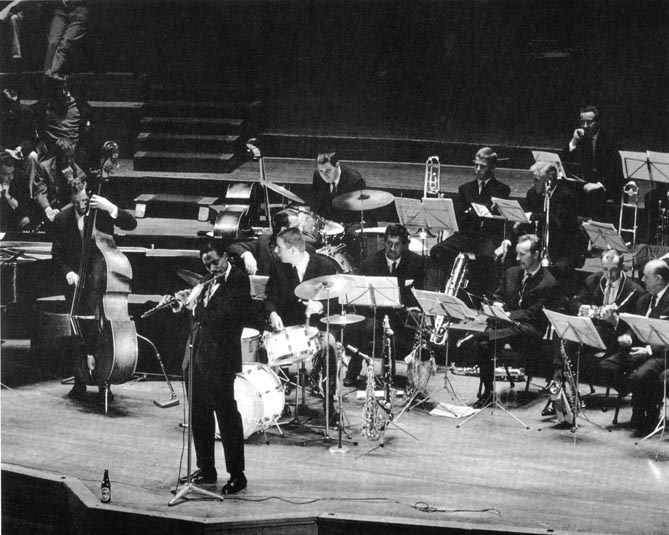 Photo by Ton van Wageningen.

Further details on this busy day
We were in Amsterdam May 30th 1964, in restaurant the Kroon at 14:00 hours. Rehearsals till 17:00 hours. Dinner in a small Amsterdam restaurant "The Cave". Eric was very enthusiastic about their Hungarian Goulash. "I never had eaten so delicious as this", Dolphy told us. Then to B-14 in Rotterdam. As the program in Rotterdam was, first the Rotterdam Leo Meyer quintet, (alto sax, trumpet, piano, bass, drums), then Eric with the trio, we could arrive at 20:45. The concert was 65 minutes and then after the concert at 23:30, we drove to Amsterdam. Arrived about 00:30. In Amsterdam the night concert started with Boy's big band till 00:45, then intermission. After the intermission the Eric Dolphy quartet played some compositions by Eric, and the quartet played 3 compositions with big band. The first big-band arrangement was "245" then an arrangement by Boy Edgar, "Blues Minor" with Eric on alto sax, with the quartet and Boy's Big Band, and closing with the second big band arrangement of Eric Dolphy, "G.W." by the quartet and the big band.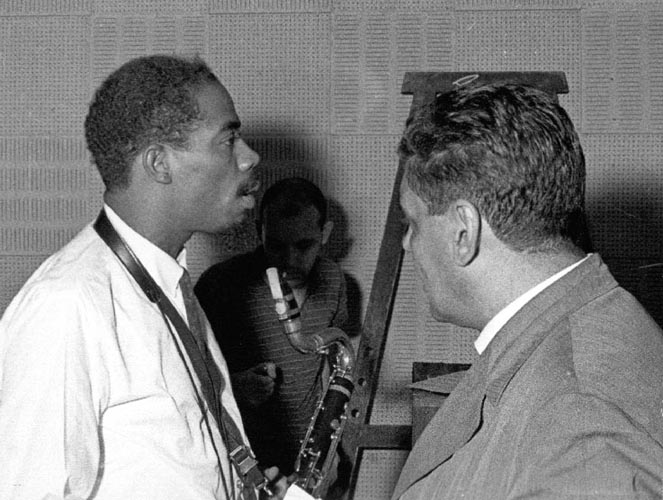 Eric, Misha in the background and Boy Edgar (leader of Boy's Big Band) rehearsing in de Kroon, Amsterdam. Photo by Hans Kemmink.
After the two big band pieces, which were European premieres, the quartet started to play without the big band. After the concert we went to an American guy, a journalist for Time magazine, and were talking about everything that was interesting. At 5 o'clock in the morning we went to the Museum hotel (close to the Rijksmuseum, where you can see the world famous "Nachtwacht" from Rembrandt) and had 4 hours to sleep. That evening Eric had to play in Tilburg.



May 31, 1964 20.00 hours. Two beat and modern jazz society, in Tilburg


June 1, 1964 20.00 hours. New Sound Club, in the Poort van Kleef, in Eindhoven. When the concert started I discovered after about 15 minutes on the balcony of the Poort van Kleef a person, with a microphone trying to record the music. I went to him and ordered to switch off the Grundig tape-recorder. Years later I saw that the person in Eindhoven had recorded about 18 minutes of music (Epistrophy) which is released on the I.C.P. label.


June 2, 1964 evening. V.A.R.A. studio 5, in Hilversum for radio-program "Jazz Magazine", producers Aad Bos, Kees Schoonenberg and Michiel de Ruyter.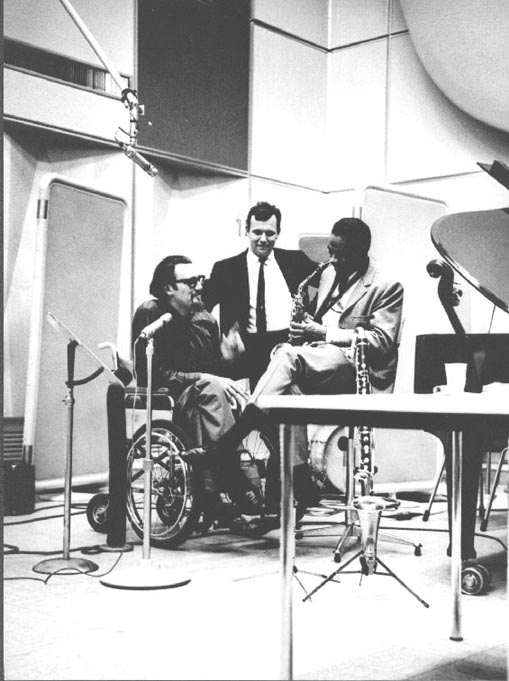 Aad Bos, Michiel De Ruyter, in wheel-chair and Eric, picture in radio studio. Photo by Henk Visser.
The recording was as follows: Tune and intro, Introduction by Aad Bos, "Epistrophy". After playing the composition producer Michiel de Ruyter says, "That was 'Epistrophy'" and asked Eric what the next compositions will be. Eric answers "Hypochristmutreefuzz", a composition by Misha. As it is a very complicated title Misha has to explain the title [Hypochristmutreefuzz is, as Misha explains, the mess underneath the Christmas tree. There was only that explanation no reason why it got that special title], then "Hypochristmutreefuzz". Aad Bos introduces "You don't know what love is" and you will hear "You don't know what love is". As the timing by Misha is not correct Eric stopped after 1.27. There is a discussion of 1 minute 43 seconds. Aad Bos instructed the technician, "There will be two compositions and then we will stop" and Eric starts again. There is an intro of six seconds and again he had to stop. Eric had to start for the 3rd time but now you will hear the complete version of "You don't know what love is" and "South Street Exit". Then Aad Bos said to the technician to stop for a while. There is a small intermission and the recorder is switched off. Later on we get "The madrig speaks, the panther walks" and ending with "Miss Ann". At last Aad Bos with his proclamation of the program.



Eric Dolphy and Misha Mengelberg in de Kroon. Photo by Hans Kemmink.
That was the complete information of the tour of Eric Dolphy and the recordings in Holland between May 29 and June 2 1964.
In the early morning of June 3 1964 I brought Eric Dolphy back to Schiphol Airport for his return to Paris. We had planned to do a classical piece in October 1964 with members of the Rotterdam Philharmonic.
Eric told me he wanted to do several orchestral pieces. We planned to come back to Holland in October and wanted to give concerts with two different groups. The first group has 8 horns (French-horns and/or mellophoniums), 2 baritone-horns, tuba and the quartet. The second group has an oboe, flute, two horns, clarinet, bassoon, and the quartet. At the concert in B 14 in Rotterdam, there were also several people from the Rotterdam Philharmonic orchestra and so I had introduced Eric to the first oboe player of the Rotterdam Philharmonic Orchestra, Gijs de Graaf, and Gijs was very interested to do new things with Eric and several friends from the Rotterdam Philharmonic.


A month later I received this letter.

---
About the movie [Last Date, the Akka Volta documentary]. Nearly everybody was very enthusiastic. I was one of the exceptions who was not. The idea of the movie was completely different. First the idea was to follow the places were Eric and I were, so his hotel in Amsterdam, his visit in Rotterdam, the jazzclub and jazzcave B 14, looking to the window of an art-shop, standing in the centre of Rotterdam looking to a statue of Mr. Jacques, a peaceful tiny gentleman of bronze, visiting the studio in which the Last Date recording was made, interviews with people who met him during his stay here in Holland. Mr. Charles Gelauff, a jewelry seller, an old trumpet-player who played with Coleman Hawkins in Rotterdam (1935-1937). Eric bought wedding-rings for his coming marriage with his French fiancée, Joyce Mordecai and he asked Charles how it works to give the ring to his fiancée.

Everything is changed because of Thierry Bruneau. He brought the movie to another direction. At the end of the movie Michiel de Ruyter mentioned my name, but in the context of the story it says nobody anything what or who is Paul Karting.

I have of course the complete first script, what was completely different with the distributed movie.

I can understand that Misha was not happy. The tour was a musical success. The LP of Last Date was a success for the record company. They paid Misha, Han & Jacques a big amount of 200 Dutch guilders that was in 1964 about $56.00 each. Henk Visser who had 4 black and white pictures on the cover got $21.00. I don't know how many times the LP and later the CD is re- and re-released. The people of Philips made a lot of money. Misha, Han and Jacques never got a copy of the CD from Philips.

Playing in the movie of Hans Hylkema was just a gig. They had a small budget and it was the intention to make just a documentary film for TV broadcast. You can understand that I was very disappointed, when I saw that all the material, which was made of my visits and stories was not used.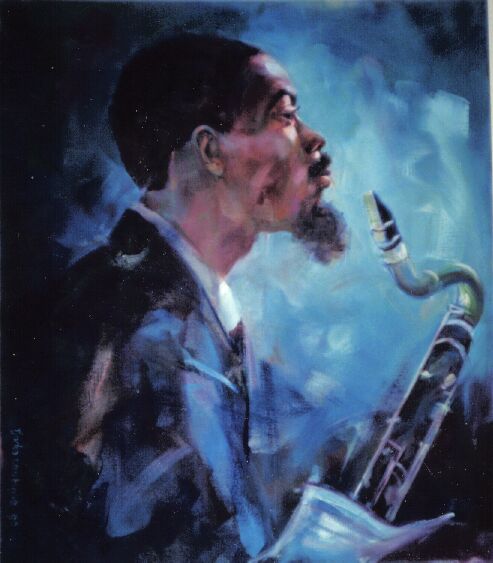 A painting of Eric Dolphy is hanging in my living room and was a birthday present from my wife. The painting was done by the late Tjarko ten Have, he was specialised in Jazz musicians and sport-people.
[note that the artist based this painting on the photograph of the bass clarinet above (with Mengelberg and Edgar), and on his own conception of the famous Charles Stewart photograph, which Peter Roberts' brother redrew as well]


Here are links to additional photos sent by Paul Karting:


Warming up on flute in B-14 jazz cellar. Photo by Henk Visser.

On stage in B-14. Photo by Henk Visser.

Michiel de Ruyter and Dolphy in de Kroon. Photo by Hans Kemmink.

Jacques Schols, Eric Dolphy, and Misha Mengelberg in de Kroon. Photo by Hans Kemmink.

Dolphy on bass clarinet at B-14. Photo by Henk Visser.

A sketch of Dolphy by Ruby Kamerbeek.

Another sketch of Dolphy by Ruby Kamerbeek.

A sketch of Dolphy by Fred Koot.

Dolphy playing flute at B-14. Photo by Henk Visser.

Dolphy playing bass clarinet at B-14. Photo by Henk Visser.

Dolphy sitting and talking with de Ruyter, Bennink, and Schols in de Kroon. Photo by Hans Kemmink.

Performing in VARA studio, shot from above (not same photo as on album). Photo by Henk Visser.

Han Bennink, Herman Schoonderwalt, Tinus Bruin, Eric Dolphy, and the bald head of Theo Loevendie in de Kroon. Photo by Ton van Wageningen.

Toon van Vliet, Dick Vennik and Eric Dolphy in de Kroon. Photo by Ton van Wageningen.

Eric Dolphy in VARA studio in Hilversum during recording for Jazz Magazine radio show. Photo by Ton van Wageningen.

Contract for VARA radio broadcast
First page of contract for tour
Second page of contract for tour
Text of the interview Michiel de Ruyter did with Eric Dolphy following the Charles Mingus Sextet's concert at the Amsterdam Concertgebouw, April 10 1964.

---

Dolphy discography

To My Home Page

---
---

Date created: 2 April 2001 
Last modified: 4 May 2020 
Maintained by: Alan Saul

alan@adale.org