Postscript & Filmography
Vladimir Simosko prepared the following list of film records of Dolphy. I have added comments.
Note that many of these clips have been placed elsewhere on the net at this point as well.
1957?: Rock All Night, a film produced by Buck Ram. This page has clips and details.

1958 July 7: Newport with Chico NYV16590 (Jazz on a Summer Day)
Blue Sands, Lord Randall
Widely available.

1958 Nov.10: Timex All-Stars Show
Sleep [1:25], You Do Something To Me [2:08], The Morning After [1:45]
Low quality video. Issued by Kay Jazz Productions as "The third all-star jazz festival" (title as given on the cover!), KJ117, according to Werner Krozewski, who says his copy is also poor quality. Werner says: "I bought this video some time ago at Norbert Ruecker, Books & Videos, but although he has other Kay Jazz videos still in his program this one seems no longer available. Thanks to Ken Williams!

1960 Jul.13: Mingus at Antibes (is there more? was video issued?)
I'll Remember April [13:39]
Fairly low quality video. Features Bud Powell most prominently, along with Booker Ervin and Dolphy. Not issued AFAIK.

1961 30 August: Dolphy Quintet Berlin broadcast.
GW [3:29], God Bless the Child [3:34], 245 [5:49]

1961 Sept.3: Dolphy Quartet (did video ever surface?)
I suspect this date is incorrect.

1961 Sept.5: Dolphy Quintet (was video ISSUED complete?)
Eric I Sta'n: Left Alone [5:19], Miss Ann [4:11], Serene [7:40], God Bless the Child [5:26], and GW [6:00]
Excellent, probably the best film document of Dolphy. Not issued AFAIK.

1961 Sept.?: Dolphy Quartet (did video ever surface?)
I presume this item is from Copenhagen where they do Don't Blame Me, Green Dolphin Street, Miss Ann, and 245 with Dolphy, Axen, Moseholm, and William Schiopffe on drums. The audio exists, but don't know about the video.

1961 Nov.10: TV with Trane (not even audio surfaced)
PM West show: My Favorite Things
Fujioka lists this, and Vlad thinks he saw it way back when.

1961 Nov.24: VAI69035 (Coltrane Legacy)
Baden-Baden: Impressions [7:30], My Favorite Things [11:06] plus Everytime We Say Goodbye without Dolphy
Good quality, but the setting is annoying to me, and the playing isn't quite the quality of other recordings, such as the previous night. Widely available on Coltrane Legacy.

1962 Jun.3: Jazz Vespers on TV (not even audio surfaced)
Jazz Vespers: No info beyond what's on the web page and in Simosko.

1962 Oct.12: Mingus Town Hall (video excerpt only in "Mingus")
Anybody know who to credit for this?

1964 Feb.8: Journey Into Jazz SHV57433
Journey into Jazz
Limited Dolphy, but worth seeing those few seconds. Good quality, available wherever Bernstein's Young People's Concerts are found.

1964 Apr.12: Mingus in Oslo Sanachie 6307, Vidjazz 15, LJ573
Oslo: So Long Eric [21:28], Orange was the color of her dress then blue silk [14:28], Parkeriana (aka Ow) [2:30]), Take the A Train [12:37]
This is probably the best-known Dolphy on video. Widely available. Excerpted repeatedly in Last Date.
Video of concert
1964 Apr.13: Stockholm rehearsal (was video ISSUED complete?)
Stockholm rehearsal: So Long Eric [3:00, 8:00], Meditations [:37, 18:39]
Video of rehearsal

This is excellent. Excerpts available as well as in Last Date. Now issued along with Oslo and Liege on Jazz Icons Live in '64. This is where Mingus asks Dolphy about how long he's going to stay in Europe.


I've now digitized the whole darn thing:
1964 Apr.19: Liege TV
This is some of the best video. A studio appearance for the quintet. This material was provided by Ed Beuker. Thanks Ed!!!
Three big and beautiful movies. Do not try to download if you don't have a fast connection! Now available on Jazz Icons Live in '64.

So Long Eric
Peggy's Blue Skylight
Meditations (146 MB)
Note that the audio is slightly out of sync with the video. I'll hopefully make some improved versions eventually.
1964 Apr.20: Marsailles TV? (not even audio surfaced)
Does this exist?

---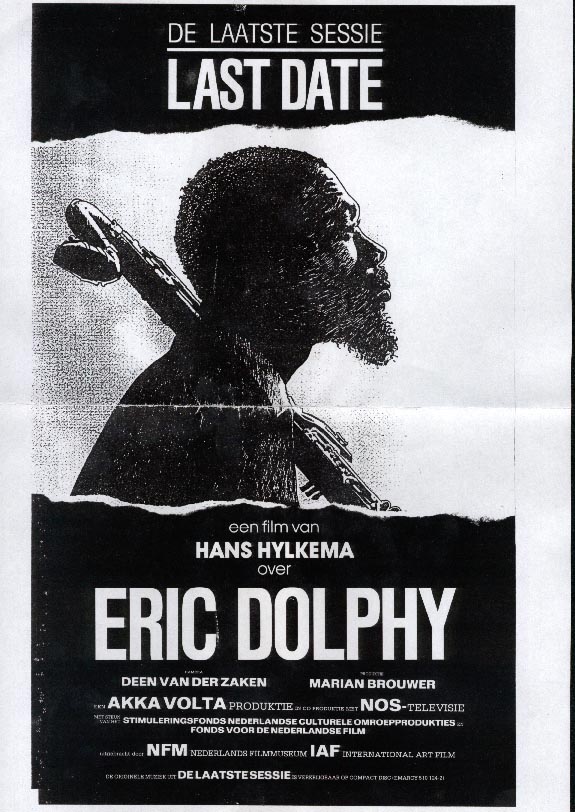 Last Date Poster, thanks to Paul Karting, who was responsible for much of the documentary, but is not happy with the way the filmmakers ended up using his efforts.

Excerpts from Last Date:
Jaki Byard's story about Dolphy quieting a noisy audience
Another story by Byard, about Dolphy leaving the Mingus band in 1964
Joyce Mordecai talking about the last days

There is a 92 minute film by Dutch director Hans Hylkema titled "Last Date: Eric Dolphy". The US premiere was at the American Film Institute Film Fest June 22, 1992. Thanks to Steven Stovall for this info. Here are some comments from Steven: I took my father to see the documentary "Last Date: Eric Dolphy", which had its US premiere at the AFI Film Fest here in LA. It was a gas for him since he grew up with Dolphy, Mingus, Dexter Gordon, Buddy Collette, et al in pre-WWII LA. The film had an astonishing amount of material: interviews with the "Last Date" quartet, Buddy Collette, Richard Davis, Dolphy's fiancee Joyce Mordecai; archival footage of his last gig with Mingus (there was a hilarious moment when Mingus, irritated by Dolphy's long solo, moves the microphone); quite a bit about his last days in Paris and Berlin (he died of a diabetic condition, no drugs were involved); even some musicological analysis (several people comment on his use of "huge" intervals, his incredible virtuosity, his use of the "language of the birds"). A must-see for anyone interested in Dolphy.

I now have a copy of this I'd be glad to show anybody who can visit. Sorry it isn't available through dubbing. However, it is available commercially now, Rhapsody 9028. Thanks to Nathan Wolfson for filling me in on that. It starts with an actor playing a contemporary 60 year old Eric who meets Thierry Bruneau, a Dolphy fan featured in the film. Thierry gets to learn from Eric directly in this fantasy, but the film cuts then to the reality of Bruneau at home talking about how Eric lives for him through his music. There is some of the Oslo A Train, Bruneau again, then the introduction to the reenactment of the Last Date session that gives the film most of its structure. Most of the rest of the film uses the pieces from that session, starting with Epistrophy. There is a good interview with Han Bennink, who likens Eric to a hawk. A funny interview with Tinus Bruin, an alto player who describes his initial and subsequent reactions to playing with Eric, is included. South Street Exit is then used to first go to Los Angeles, where Roy Porter leads Bruneau to Joe O'Con's house where Eric grew up. Eric's aunt Luzmilda Thomas has something to say, as well as a neighbor, and finally Buddy Collette tells how Eric "had to go to New York". South Street Exit then takes us to New York, where Ted Curson, Richard Davis, Jaki Byard, and Gunther Schuller are interviewed. Byard is particularly nice. Mingus' solo from Meditations in Stockholm (or is it Oslo?) is cut in, as well as the microphone moving scene during Eric's solo on A Train. Mingus is heard (barely) to comment to Eric "I'm gonna miss you asshole". Gene Lees tells a familiar story, Byard tells why he stayed in Europe, and we then meet Eric's fiancee Joyce Mordecai, who mentions that Eric was one of her cousins, or at least she originally thought so. The Madrig Speaks, The Panther Walks takes us to a zoo, and Bennink gives more animal metaphors. Bruneau talks about intervals, then Harry Sparnaay plays God Bless the Child from a transcription on bass clarinet. Hypochristmutreefuzz then leads to more discussion of the Last Date session. You Don't Know What Love Is takes us back to Joyce Mordecai who shares her view of Eric's music. We are now in the Paris days, with interviews with Daniel Humair and Nathan Davis. There is a frustrating glance of Bruneau opening an envelope of photos (Trane, ...) but the pictures are never shown clearly. A visit to the Selmer workshop leads to a fairly long excursion into Eric's final illness and death. Miss Ann takes us to Berlin, and Karl Hans Berger and some people involved with the final gig at the Tangente discuss Eric's intake of sugar and their memories of the ill Eric. Joyce mentions uremia, but this is not otherwise pursued. Eric's death is treated in some detail, and a bit of Ted Curson's Tears for Dolphy is played. The film ends with Eric's solo on Serene from Stockholm.
---
---
Introduction
---
Date created: 1995
Last modified: 19 April 2020
Maintained by: Alan Saul
alan@adale.org